Big Data & Analytics
Go beyond the visible dimensions of data with a robust data analytics solution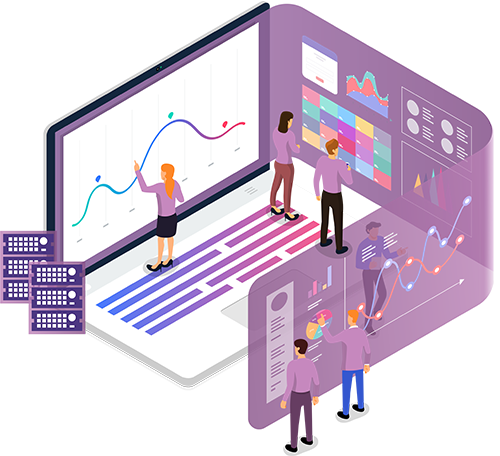 Collate, integrate, process, and extract intelligence across your enterprise with AI-powered prescriptive analytics. Let your data give you a crystal clear view of your business that factors in all the nuances of big data from disparate sources and in every conceivable format. Lucida's big data analytics tool and analytics consulting services give you the power of advance information to drive your strategies and make informed business decisions.
---
Integrate data easily from across the enterprise and gain in-depth insights
Focus on preferred data point for detailed information and analysis
View data on dashboard through crisp representative, comparative visualization
Receive role-relevant access across platforms and devices
---
Stay ahead of your game with Lucida's Big Data Analytics & Insights Services
---
BI & Analytics
Integrate analytics into existing workflows, with powerful uncluttered visualization on dashboards that offer in-depth analysis. Role-relevant and device agnostic access to applications deliver information seamlessly through a simple self-service interface.
Data Cleaning, Data Enhancement & Data Enrichment
Manage data assets through superior data governance. Optimize value and attributes of datasets through a powerful data analytics solution and data enhancement & enrichment services that automates tasks, ensuring that data is discoverable and accessible for analytics engines to process and extract information.
Data Visualization
Use BI & analytics to represent information through crisp and uncluttered visualization for emphasis. Draw users' attention to comparative statistical information through easy-to-read representations that present all data on a single screen. Get an overview with drill down and in-depth insights.
Big Data Solution
Carry out complex statistical analysis on voluminous data sets through distributed storage and computation. High throughput permits the framework to handle requirements that demand heavier configurations, offering high speed through automated distribution and parallel processes.
Industries we cater to
---
TRANSPORTATION & LOGISTICS